About cookiebot
Cookiebot is a commercial offering from Denmark which has a "free" starter for small websites with less than 100 pages - these services are provided:
scan your website to find cookies used (anywhere) in pages or sub pages
provide a dialog for visitors to control the loading of these cookies
two options to load cookies on your website: "auto" or "managed"
a detailed cookie list to be included in our website with lots of cookie descriptions for well-known cookies in many languages
easy-to-use management multi-language interface
remember the visitor decision and offers manual review or change of this decision
there is one feature which is not supported: the individual control of single cookies - only groups of cookies (e.g. analytics) can be activated or deactivated
getting started
start on this page
see offerings here https://www.cookiebot.com/en/pricing/
we will start using the "free" option -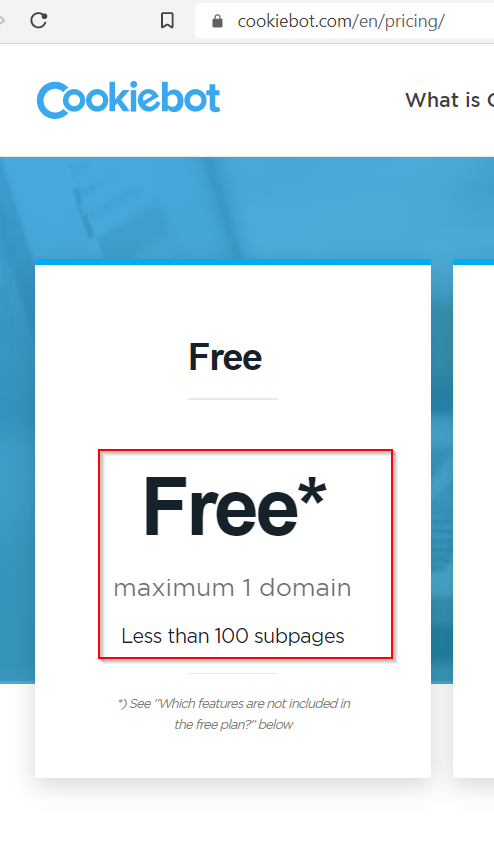 you may want to scroll down cookiebot's pricing page to see the limitations of the free offer as compared to the paid services
(try for) free offer
click the "try for free" button

we will try to stay within these limits (one domain only, max 100 pages, no visual customisations)
create a cookiebot account
enter an user account (active email address) and a password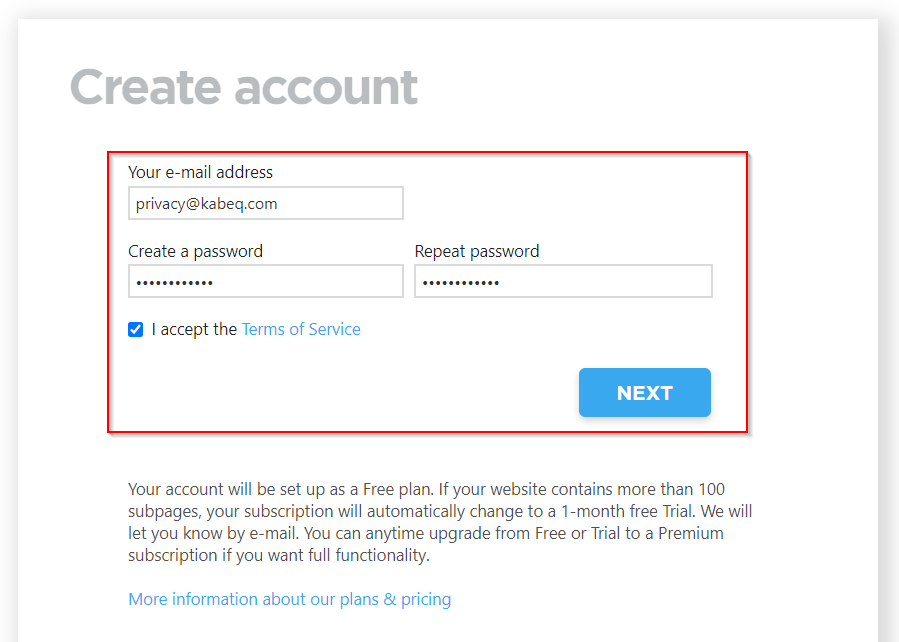 please read(!), check and agree to "Terms of Service" (if you do)
registration key form
A registration key has been sent to this email address - may take a few minutes to arrive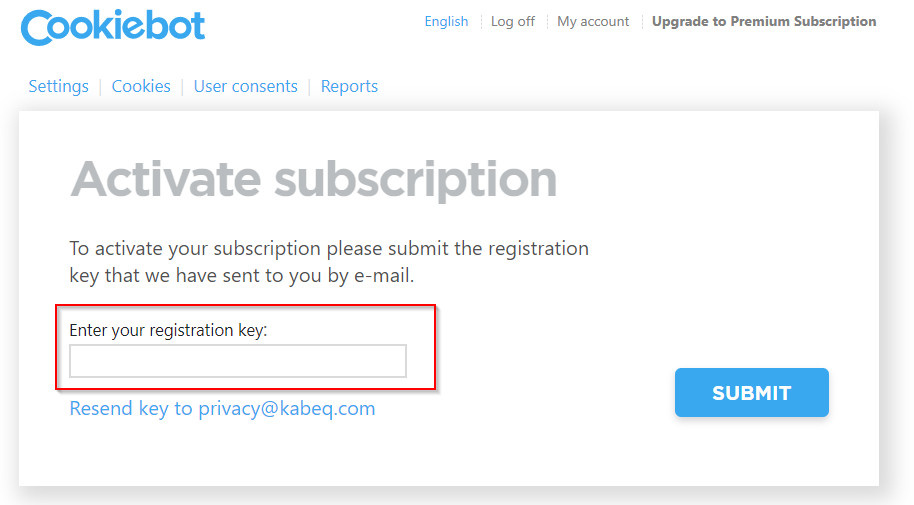 click the "resend" link if you don't receive anything after a while - you may want to check your spam folder as well
check email
Shortly thereafter you should find an email from cookiebot in your inbox which contains the registration key - email should look like this: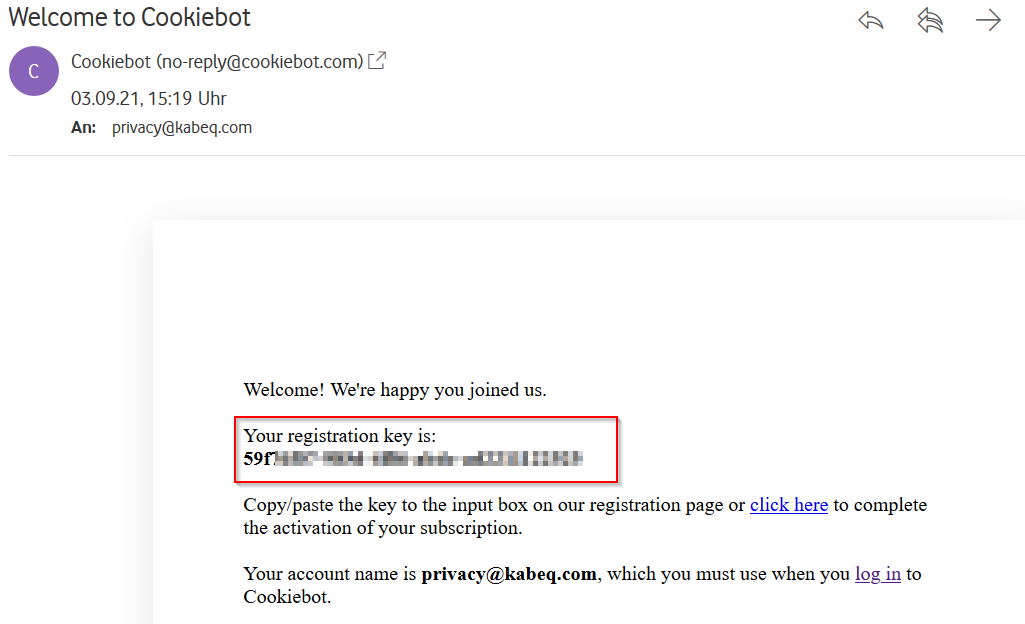 Please copy and paste the registration key into the web form and continue
confirmation
You should now see this confirmation dialog: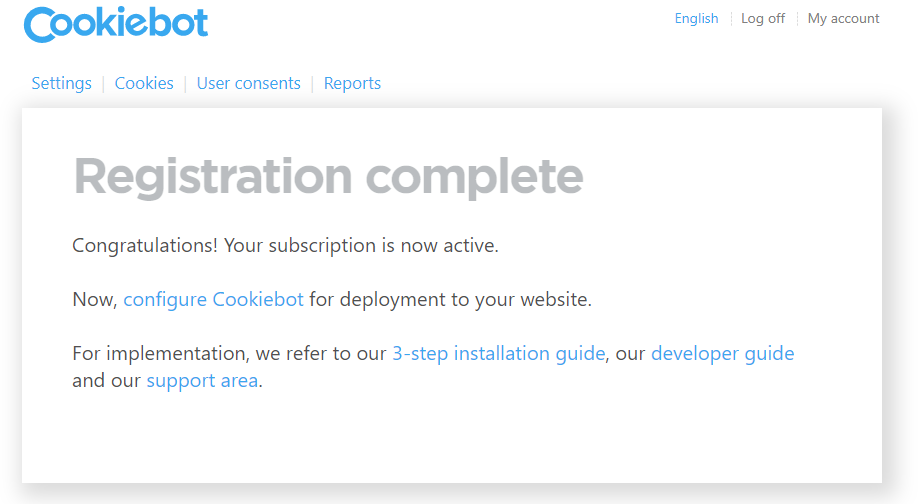 click on "configure Cookiebot" for the next steps - it is no wrong to check the other links as well for installation (will also be covered here), documentation and support
add your domain
Your email domain of your cookiebot (management) account might be different from your website so please click "+ Domain name" to add the domain name of your website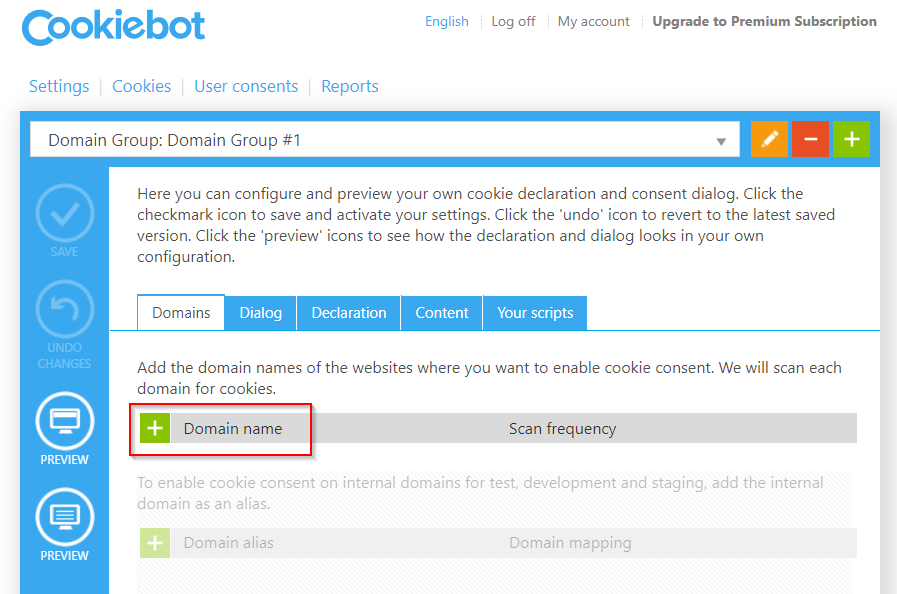 omit "https" or "www."
save your changes
click "save" when done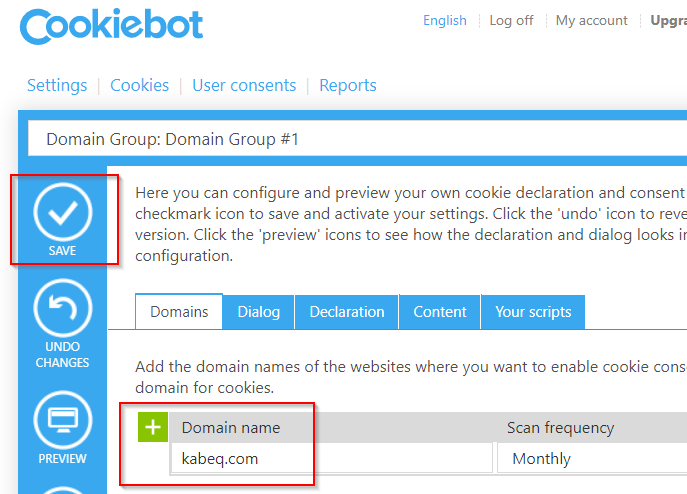 (important!)
review
An inactive (not clickable) "save" button indicates that your recent changes have been saved. You may want to reload this page in your browser to ensure your settings are all correct and stored in this configuration.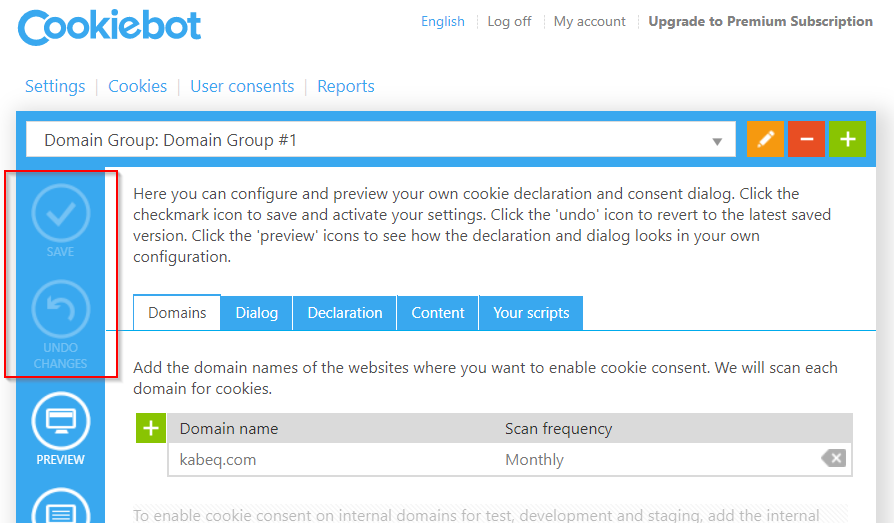 Your domain name should be visible now in "Domain name".
notes
Please note…
"https://www.kabeq.com" and "https://kabeq.com" are treated as one domain.
the free subscription of cookiebot allows one domain only
from here
cookiebot will scan your website in a few hours and send a report by email when done.
We can revisit the management interface https://manage.cookiebot.com and change the classification of cookies if needed - especially if cookies are listed as "unclassified" we can manually classify as "necessary", "analytics", "preferences" or "marketing"
TODO: Add the visitor dialog to the website
TODO: Add the analytics script to the website in a way that it considers the active visitor opt-in meaning it is only activated after the visitor agreed to this kind of cookies